Yet more on cultural devastation from Judith Dobrzynski...
Cultural Sites: Taking Stock In Syria
by Judith H. Dobrzynski
With the war in Syria continuing now for two years, with no signs of a true settlement and only minimal progress at the talks in Switzerland, The Guardian has published an update on the damage to cultural heritage that includes devastating before and after pictures.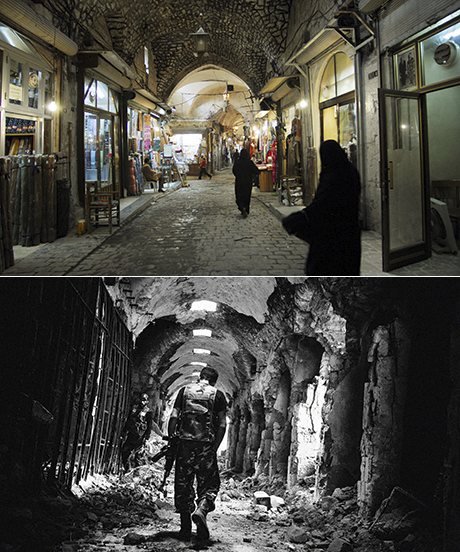 Headline Syria's Heritage in Ruins, the article says that all six UNESCO World Heritage sites have been damaged. Specifically, it reports:
"In Aleppo, one of the oldest covered marketplaces in the world is now in ruins; its maze of stone streets has been one of the most intense battlefields in the country for the past 18 months, bombed from above by air force jets and chipped away at ground level by close quarter battles that show no sentiment towards heritage. Those who dare raise their heads above the ruins, towards the ancient citadel that stands at the centre of the city, can also see damage to several of its walls."
"Several hundred miles south, just west of Syria's third city, Homs, one of the most important medieval castles in the world, Krak des Chevaliers, has taken an even heavier toll. Directly struck by shells fired from jets and artillery, the hilltop fortress now stands in partial ruin."
"Homs itself has fared even worse. A residential street, where cars not long ago parked under gum trees, has been destroyed. Life has ceased to function all around this part of the city, as it has in much of the heartland of the country. In one shot, a destroyed tank stands in the centre of a street. The old minaret next to it has also been blown up."
The article quotes Emma Cunliffe, a Durham University PhD student and member of the Global Heritage Network, saying "Archaeological sites in Syria are often on the front lines of conflict and are experiencing heavy damage. Economic hardship and decreased security mean even sites away from the fighting are looted. This is denying not only Syrians but the world a rich heritage which can provide a source of income and inspiration in the future."